Let's meet again in person at VISION
Wednesday, September 15, 2021 - Discuss outsourcing with DELTATEC at VISION
While the health crisis has paralysed the organisation of shows for many months, the DELTATEC industrial vision activity has continued to grow.  
Three years after the last edition, VISION, the European leading trade fair for machine vision, will take place in Stuttgart from 5 to 7 October.
We are very pleased to take part in this 2022 edition and we invite you to visit DELTATEC team on our booth #10B23! We will present our latest achievements and our current R&D projects.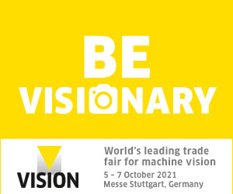 For sensors and cameras manufacturers or integrators, DELTATEC proposes a large set of design services: read-out electronics, mechanics, thermal management, embedded software/firmware, sensor/camera characterization, test beds and evaluation boards.
For industrial companies, DELTATEC builds various specific image processing applications, based on its experience in real-time high-end electronics, hyperspectral camera, 3D, augmented reality, AI and image enhancement.
Visiting VISION? Stop by our booth #10B23 to discuss fruitful collaboration opportunities. If you want to manage your time onsite at the best, set up a meeting with one of our colleagues right now!
We are looking forward to reconnecting with the machine vision market!